It's always all about people
We grew...
One thing remains unchanged no matter the year. People are our greatest asset. 2020 has proved to us that investing in the best possible team allows us to survive the toughest times. We planned to welcome 2021 with 200 employees on board. Although we had to adjust to the changing world situation, we did not stop employing the best in our profession. With the switch to 100% online recruitment we manage to keep high standards of the process.
This way, Team Merixstudio in 2020 gained 67 people and now has 186. We are very proud of it, and despite the fact that integrating with new employees is now quite difficult, we are extremely happy to welcome every new face on board.
...and matured
As we are growing, our structure also faces a lot of challenges. Our focus on continuous development doesn't apply only to creating digital products but also to people. That motivates us to search, check, and introduce the most optimal career paths so we can provide them opportunities to improve their skills and use their potential in the most efficient way.
As our team evolves so dynamically, we attach great importance to make conscious decisions regarding the structure. Therefore we implemented many improvements including introducing new roles. Thirst of them was an Engineering Analyst who supports sales activities with expert knowledge. As this move worked really well, we decided to expand it in 2020 to additional areas (QA, Mobile, DevOps) and introduced the role of Business Analyst in the Product Design team and Full stack devs at Engineering.
And that's not all! For the past months, we worked on a whole range of changes in the Engineering structure, and in January 2021 other new roles will be released - Engineering Manager dedicated to each of the technological areas, and Software Architect whose aim is to improve technological solutions that we offer.
As our other departments grow as well to meet the needs of Merixstudio, we also welcomed completely newbie specializations in People & Culture, Business Growth, Business Development, and Office Support teams.
We grow, but the most important thing for us is to maintain direct contact with each person, ensuring a sense of care, and the possibility of direct cooperation. And last but not least - to keep our atmosphere alive, what surpass all market benefits.
Online integration
Difficult times have come for the extremely companionable Merixstudio team. Accustomed to small talks over the coffee machines, shared lunches, board, and video gaming, we suddenly moved to the 100% remote mode. Working from home was not something new for us, at Merixstudio we have had this opportunity and all the necessary tools for a long time, but the many-week forced HO is something completely different. Does this mean that we have cut ourselves off from the world and other members of the team? Oh no! We have dealt with the lockdown and we are dealing with it in all possible ways.
Despite the fact that we are working in different places now, we are still a good team. We arrange lunches together - this time online. We share photos of reality in Home Office mode, apply warm wraps from beloved pets, and even create lists of recommended movies, books, and series. Of course, I wouldn't be myself if I didn't share the post with pictures of doggos ...
Some of us were needed in the office all the time and in order to fight loneliness, their creativity was outstanding. Greetings, Krzysiek!
Our team of runners even took part in June in the charity Poland Business Run and bravely covered the next kilometers while maintaining the sanitary regime of course :)
We still love to share our knowledge
Blogs, videos, podcasts, and more!
The daily acquisition of knowledge is an integral part of our work. Each line of code teaches us something new, and each business case allows us to build experience. We don't hide our knowledge deeply in fear of others. Of course, we have our little secrets and patents, but what gives us a lot of energy to act is sharing knowledge and exchanging experiences.
Content has always been our great strength and in 2020 we put even more effort to build our knowledge base through a plathora of formats - blog posts, videos, e-books, external articles, interviews and podcasts. Our goal is to educate and share our experience with entrepreneurs, managers, IT professionals, and those who are just starting their adventure in software development.
Sometimes we like to talk not only about our work but who we are and HOW we work. We want our readers (yes, we're talking about you!) and candidates, who are thinking about joining Merixstudio, to get to know us now better. That's why in 2020 we refreshed the #MeetMerix series published on our social media channels to show our people the way we know them from the office.
To learn about our work "from the inside", we invite you to read the #code series, where you can delve into the stories of the Sales, PM, or People & Culture teams. And if you prefer to watch, visit our YouTube channel, where you can find videos presenting different teams, roles, and positions in Merixstudio.
One of the most significant achievements for our content development and knowledge sharing was the start of our own podcast "Piątki po deployu" ("Fridays after deploy"). Miłosz and Mateusz have already recorded 25 episodes and are slowly becoming Internet stars;) You can listen to the boys' conversations on Spotify, Apple Podcast, and watch them on YouTube.
Events… gone online
Last year was marked by the next editions of Dev College, py_tej, front.radar and the first edition of PUMEX. This year, we planned further events supporting local communities of developers, UI and UX designers, and Project Managers, but... pandemic thwarted our event plans. :(((
In February, we were able to launch one py_tej in the standard version, and brought together the Poznan Python community once again. Then we had a lockdown and unfortunately, the events have not returned to their standard shape until today, and we miss it a lot. All those meetings, small talks over a pint of beer and a piece of bread covered with smalec… Despite this, we are constantly looking for the best possible channel to share our knowledge with you and we managed to organize of front.radar and py_tej online editions! We hope you enjoyed it :)
We also conducted two Live Sessions on LinkedIn which were dedicated to startups.
Work, work, work
Projects: still lots of, still exciting
It cannot be denied that the cursed year 2020 has shaken the foundations of everything we know. And although many of us were initially concerned about "what's next", we didn't even slow down for a moment. Our Business Development and Growth teams are doing a great job providing us with the opportunity to work on truly unique projects. Applause for them, we love you guys!
In 2020we worked on over 50 projects and conducted almost 30 design workshops. You can always check our portfolio and read a bit about our business cases, but we can especially recommend to your attention:
We also had the pleasure to work on projects in the healthcare industry and create an application that realistically supports the improvement of the quality of treatment and the quality of life of both patients and medical staff. Our apps also improve work in the Gas & Oil industry, where we support and optimize the tool for process digitization. We also do not forget about such projects as a comprehensive online tool for cooperating with freelancers and service providers.
Who rocks on Clutch? We are!
We're proud to say that the effort we put in every project is appreciated by our clients and the IT community. For another year in a row, we can boast of leading positions in the rankings on Clutch and now also on GoodFirms. It is a particularly important distinction for us because each high place in the ranking is the result of our joint work.
We don't want to boast too much (well, maybe a little bit), but we still hold first place in Top Poland Custom Software Developers and Top Python & Django Developers. We are also ranked fifth in the global Top Custom Software Development Companies ranking! Patrycja wrote more about our awards and their importance for the work of Merixstudio Team. Take a look :)
New software for a software house
Redesign of Merixstudio website
One of the projects we were working on in 2019 was the new version of our website, which is part of our new, improved Corporate Identity. The whole story was perfectly described by Magda in her article.
We focused on devotion to the real spirit of Merixstudio Team: our employees are visible on all the photos used on the website <3 Dynamic linear animations make our website want to scroll and we hope that every visit to merixstudio.com is a really exciting journey!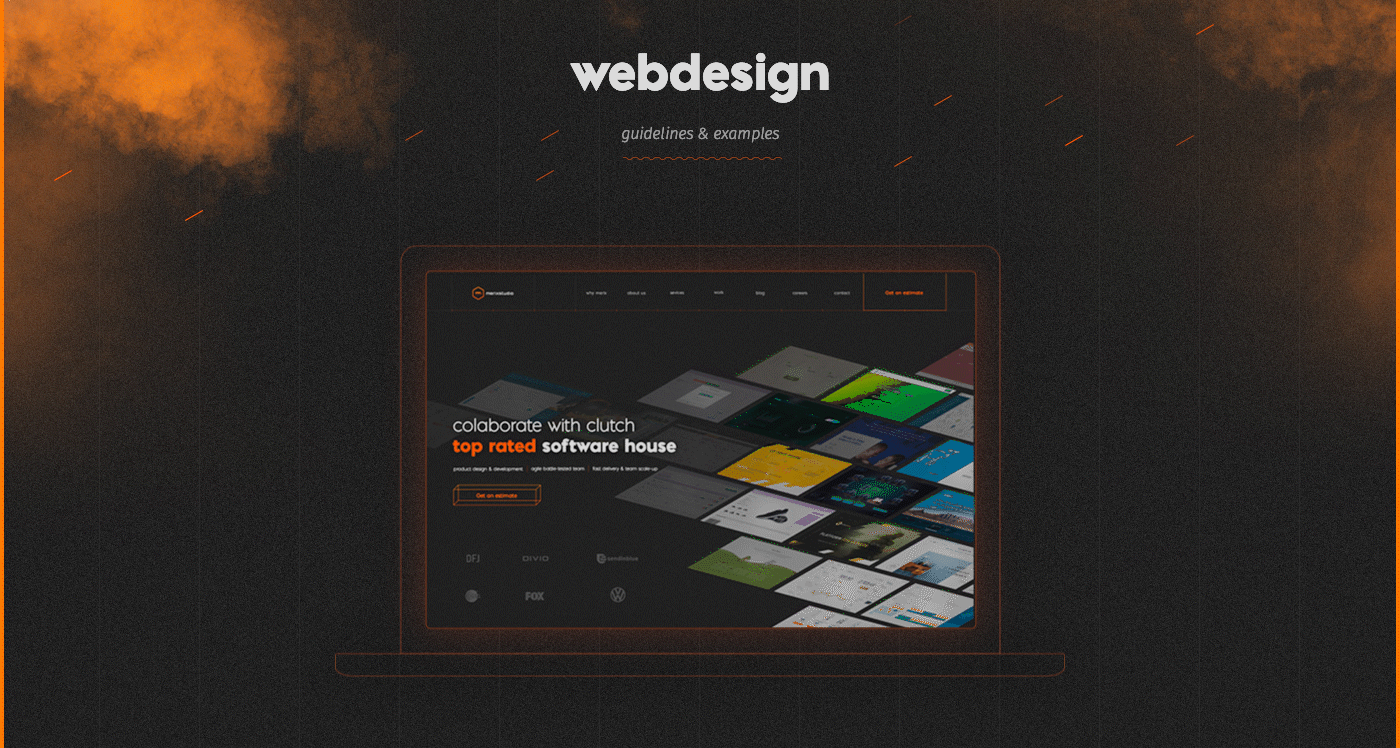 The new career page has also become the participation of our fantastic Product Design team. Taking care of Candidate Experience, we have refined the career paths, search engine, and video materials about our work in the smallest detail.
New tools, new opportunities
As a software company, we can't build our growth and hone the processes without the support of digital tools and systems.
With the ambitions to become a Data-Driven Organisation, we introduced Tableau. We can now make more meaningful business decisions, based on data transformed into actionable insights ranging from data relationships and calculations to predictive analytics and dynamic design techniques.
To develop our feedback culture we also started to use Impraise which armed us with better tools to give each other ongoing and valuable feedback.
And finally, in order to provide our users with the knowledge they specifically need we created and released content experience tools - paths, landing pages, and Merix Insights. The last of them is the base of articles, videos, ebooks, and whitepapers showing the complex nature of shaping A-1 digital products. Based on our multidisciplinary expertise and 20+ years of experience in supporting our clients from all over the world and across the industries.
2021 - we're ready!
It's been a really tough year and we're actually glad it's over. There are many difficult life and health moments behind us, but also a lot of positive professional events, new people, new projects, and the good old Merixstudio team. Against all odds we end 2020 stronger and ready for the challenges of the upcoming year.
2021, be more kind to all of us :D!