The beginning of 2020 greeted us with great news. Clutch, the premier B2B ratings and reviews platform, recognised Merixstudio for our expertise again. We've been awarded in key categories related to building complex digital products for several years in a row, but this time our performance is worth special attention.
According to Clutch, Merixstudio is the Best Custom Software Development Company in Poland and the third-best in the world. Our achievements are similar when it comes to web development - we've been named Best Web Development Company in Poland and Top Web Development Company in the world.

Best Custom Software Development Company in Poland on Clutch
Best Web Development Company in Poland on Clutch
Also, Merixstudio's clients appreciated our technical competency which resulted in gaining the title of the Best Python & Django Developers in the world and the Best React Native Developers in Poland and Best Web Design and Development Companies.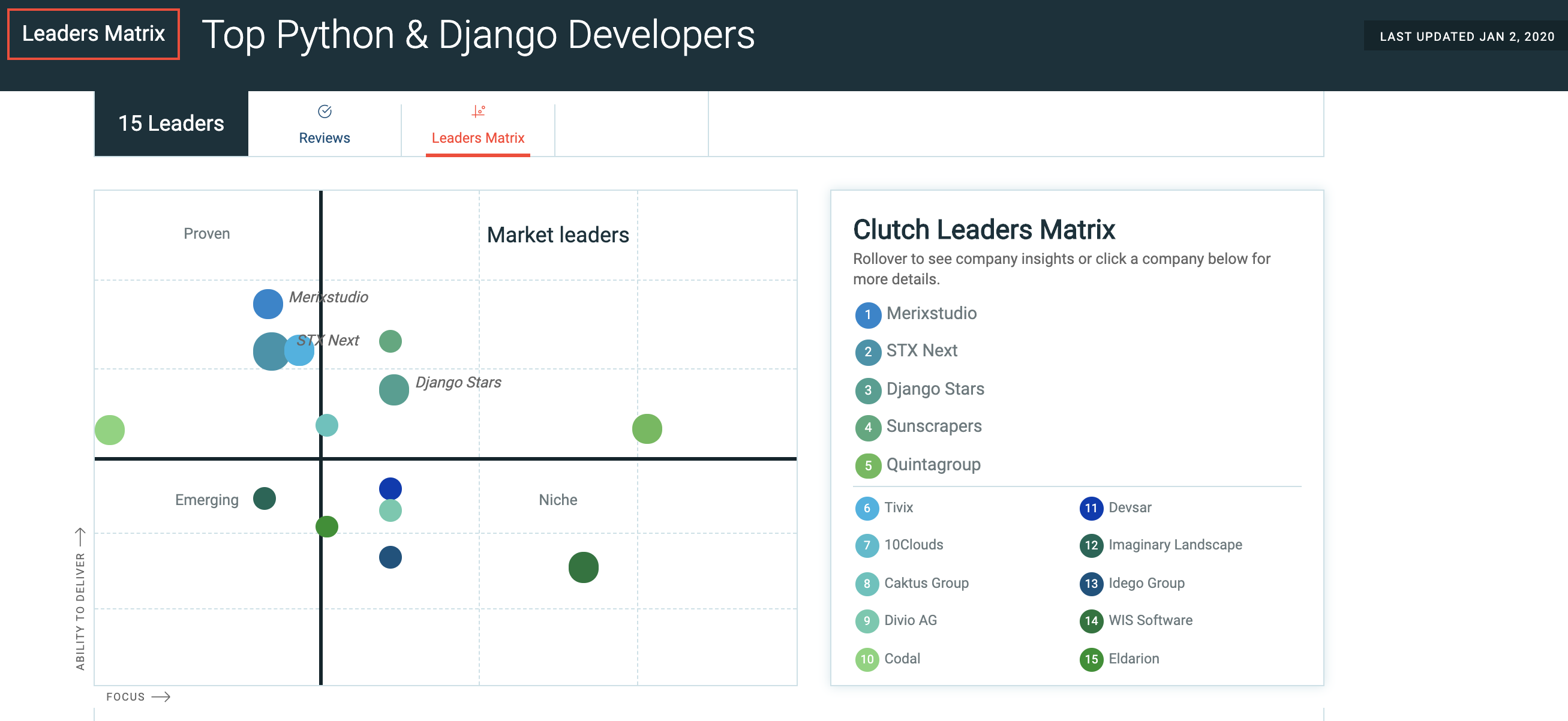 Best Python & Django Development Company on Clutch
Best React Native Developers in Poland on Clutch
The reasons for celebrating do not end here. As a result of delivering excellent results to all clients with a strong demand for financial digital products, we've also been named Top Financial Services Custom Software Development Companies. We're honoured to hold a second-place designation on this list.
Top Financial Services Custom Software Development Companies
Eastern European countries position themselves as rapidly growing in terms of business and talent pool and there is no lie about that. Some of them already managed to reach the top and get to the forefront of countries with the best software developers. We're proud to be ranked #1 in the listing including the Top Eastern European Software Development Companies.
Clutch rankings - why they matter?
Browsing Clutch allows companies looking for professional software development services to find reliable tech partners to meet their specific programming needs. The reason why you should trust Clutch is in its innovative research process based on B2B research and client review services. The platform can be considered as an unbiased source of information in all conscience, as Clutch's team of researchers talk personally with every single client.
To be honored with awards like Merixstudio was, a company needs a committed client base, a strong portfolio, and dedication to the services offered. With 55 positive reviews and an overall score of 4.7 out of 5, Merixstudio meets all these requirements and hence lands in the very top of Clutch rankings.

Merixstudio's profile on Clutch
The innovative research process, verification of reviews and free access to very detailed information about companies' performance makes Clutch the first place for startups, mid-market companies, and enterprises to find a trustworthy design and development partner.
When you drive digital innovation, it shows
We started 2020 at full speed, reaping the rewards of hard work we have done in 2019. To give our clients the best quality that stems from working with top-tier talents, we doubled our team and opened a new office, creating an outstanding workplace for the brightest engineers and designers.
Since 1999 Merixstudio's business core is to deliver real value through digital innovation. We mix an innovator's mindset, agile approach and long-established experience to build intuitive, performant, and scalable software that helps businesses grow. Within our 20-years journey, we provided high-quality design and development services for 200+ clients. Thanks to their outstanding reviews we have been recognized by Clutch as one of the best software development companies in the world. Also, we do not stop and work hard to be recognized as one of the best software development companies of 2020.
Build your product with the best
At Merixstudio we believe that key values that drive our relationship with partners are trust, transparency, proactivity and mutual understanding. Positive reviews from our clients show us that all these combined is what it takes to successful projects' delivery.
Thinking about outsourcing your software project? Our articles regarding this topic may help you understand the process. Read the guide to IT outsourcing and check why you should choose Merixstudio for your software project.