#1 You'll have transparent communication with your team
If you outsourced app development in the past, chances are you've already learned that transparency is the key to building a mutually satisfying relationship with the remote team. This claim holds true for all aspects of client-team cooperation, including billing procedures, project management processes, and communication.
As far as the latter is concerned, working with Merixstudio, you'll have a constant insight into your team's progress. You'll see tasks progress with Jira, track commits in GitHub, chit-chat with your team using a dedicated Slack channel, and talk to them during weekly sum-up meetings. Neither the distance nor the time zone difference scares us. We mastered the communication tools and won't hesitate to prove it to you!
#2 You'll have all competencies needed for successful project in one place
The first job that comes to most people's minds when they think about IT projects is that of a programmer. It's essential to remember, however, that to launch most digital products, you'll need not only a high-quality code but also a stunning user experience, pixel-perfect designs, and a watchful eye overseeing the entire software development process. The most effective and efficient way to get all of these at once is to find a tech partner whose team is composed of skilled individuals who are experts in various fields. A partner like us.
Currently, Merixstudio employs over 120 experts in coding, project management, quality assurance, design, and user experience. Entrusting your project with us, you can expect to receive full support not only throughout the development process but also when your product grows and scaling up is needed.
#3 You'll get a well-scoped MVP
Want to be sure there are no loopholes in your business model or user paths? How about ensuring that your vision gets turned into a working product within a few months? Fair enough, we've got you covered!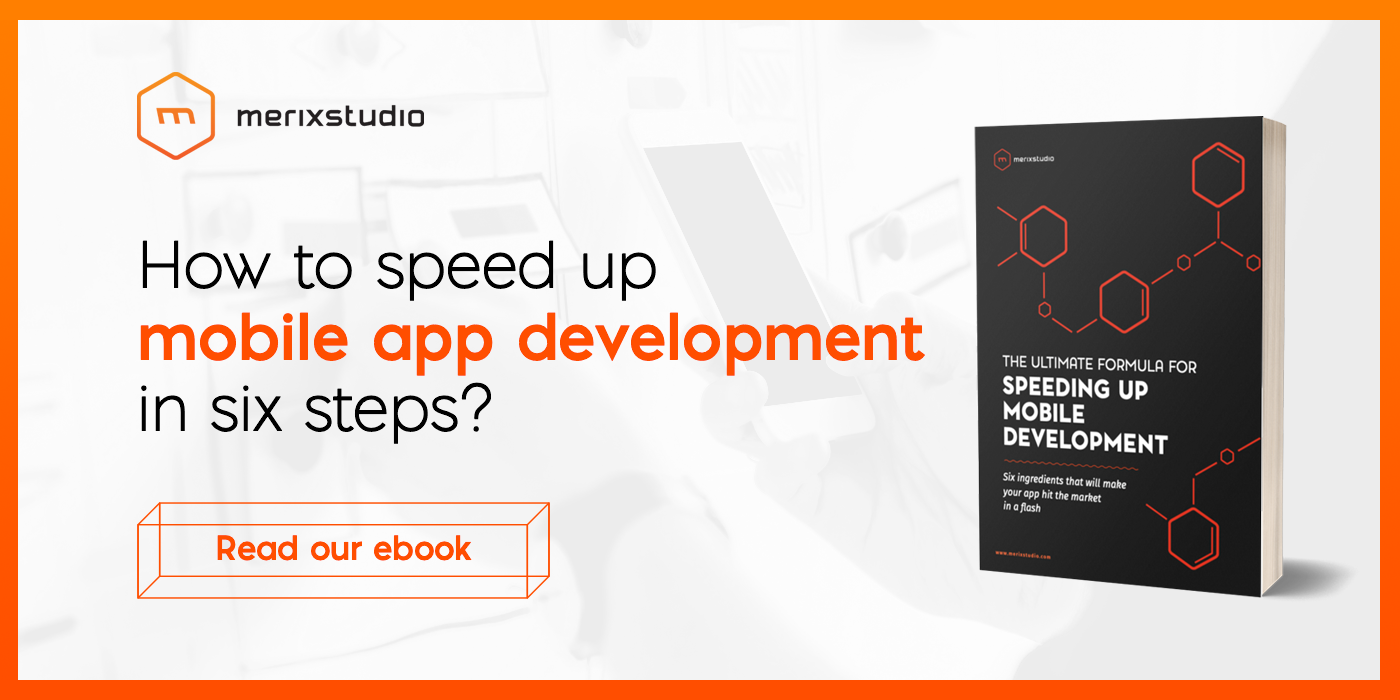 To accomplish these goals, we kick off projects with a Design Thinking based session during which a dedicated team consisting of a UX designer, a couple of developers, and a project manager analyze both business and tech-design aspects of your vision. The result is an MVP – a preliminary version of your product showing nothing more but its core functionalities – and a relevant development strategy that allows you to validate your initial idea and engage with actual users early on. These opportunities prove to be invaluable to our startup clients like Flavr, about whom you can read on our blog.
#4 You'll be able to embrace change
Changed your mind about your business direction? It can be helped! All thanks to Agile software development which is a change-friendly methodology focusing on adjusting the product to user feedback and shifting priorities (with the appropriate trade-offs, of course).
At Merixstudio, we put the agile rules into practice with Scrum and Kanban. As far as the former is concerned, we implement it by dividing our work into fixed-length iterations (sprints) that allow teams to ship software regularly. What also fosters the team spirit and drives efficiency are Scrum ceremonies such as daily stand-ups, sprint demos, and sprint retrospectives. With Kanban, on the other hand, we design smooth workflows and increase the transparency of our processes
#5 You'll pay for the actual time we spent on the project (no rounding up!)
We use time & material contract that fits the Agile philosophy perfectly. This model assumes that you pay for the actual work done only thus you don't need to know the final scope from the very beginning. It practice, it translates into starting the development process by setting set up a general goal, basic features, and the tasks for the coming, near feature (usually week or two, depending on the Agile sprint length). As the final product continues to grow, you still have control over costs and you don't risk going over the budget!
#6 You'll quickly respond to users needs and build a product your users will love
We know how to use an MVP to draw conclusions! We perform UX audits that identify not only less-than-perfect areas of your product but also the effective ways of boosting conversion rates and user experience. All to make your product lovable from the moment it hits the market.
We put in every effort to notice and understand the behavior patterns and needs of your users. To achieve this objective, we use a number of different methods such as heatmaps and user session recordings. One of our favorite tools in this regard is Hotjar which lets us track users' clicks, taps, and scrolling habits.
#7 You'll get a quality product
If you want to drive digital innovation, quality is the key. We believe that clean and easily-scalable code, as well as error prevention, are a prerequisite for success. Hence, we follow a number of tried and tested procedures for ensuring that the results of our work are impeccable. These include QA team's manual and automated tests and peer code reviews.

#8 You'll be asked for feedback regularly
We are enthusiasts of kaizen philosophy which promotes continuous improvement. Therefore, we believe feedback to be invaluable in enhancing the process of product development from the very beginning of our partnership. Learning from experience and making improvements are part and parcel of each project carried out at Merixstudio – simply because your satisfaction is the measure of our success.
#9 You'll be sure that your product is in good hands
Merixstudio has been recognized for strong programming skills, great UX/UI capabilities and competent project management many times. We know what it feels like to be in your shoes as we have come up with our own digital projects (see GoDealla case study) and turned them into products used by thousands of users.
What also makes us a reliable tech partner to whom you can outsource app development is our insatiable thirst for knowledge. We try to satisfy it by holding regular internal trainings, attending conferences, and building local tech communities with events like Django Hotspot and Dev College – but in terms of professional growth, we can never get enough!
#10 You'll be among over 150 successful business owners who developed their products with Merixstudio!
During our 20-years presence on the market, we've worked with clients representing different industries and completed over 200 digital projects. Over this period of time, we've been recognized for our expertise a dozen times. Just to mention some of the most recent data: at the beginning of 2020, Clutch has named us the third Best Custom Software Development Company in the world and one of the Top Web Development Companies worldwide.
Our hard work has also paid off in numerous positive reviews from our satisfied clients – and as you're reading this article, you're just one step away from becoming one of them!
Now that you know why you should choose Merixstudio, check out our services and let's talk!