Offshoring vs nearshoring
Every business owner wants its product to be developed by the best software development team possible. IT Outsourcing seems to be the right choice, especially when you take into account the real cost of hiring a software engineer and creating your own in-house team. But here comes the dilemma - you need to decide between nearshoring and offshoring. Which one of these two options is a better choice? I'm sorry but I have an unsatisfactory answer - it's up to a project and your goals. In both cases, you as a company export your project to be completed by a third-party firm. For instance, a UK-based startup is hiring a software house to build and maintain their app.
The key difference between offshoring and nearshoring is based on a location of outsourcing.
Offshoring
Offshoring is the relocation by a company of a development process to a distant location. Cheaper locations are the most commonly chosen so that the overall development cost may be significantly decreased. For example, China or India are two of the most popular countries for western companies looking to outsource their software needs.
Offshoring has, of course, some cons that should be considered. Different time zones, cultural differences, language barriers, distance, and habits differences, can all impact (but don't have to!) on the work process and the quality of the digital product.
Simply put, offshoring is a little baby of outsourcing. Using the previous example, this means that the startup from the UK would choose a software house from a completely different geographical location as a partner to develop their application.
Nearshoring
This term refers to a company contracting parts (or all) works to an external firm located across national borders but within its own region. At the simplest, it includes the neighboring countries.
The big advantage is the fact that they are often bound by similar financial and legal constraints (such as data protection law). The distance, small time-zone differences, and fewer cultural disparities are the reason why nearshoring is the more and more marketable solution. It allows for less expensive travel, a greater degree of control of the development process, especially in critical situations.
So, we can call nearshoring the little brother of offshoring. And again, using the previous example, the UK startup would be using nearshoring services if it would work with a software house from Europe (eg. from Poland) to create its app, instead of choosing a one from India.
OFFSHORING
NEARSHORING
Pros

lower costs
time zone benefits (can receive round the clock support)

the same time zone
few cultural differences
cost-effective
nearness (face-to-face meetings and faster communication)
timely decision-making (problem-solving)

Cons

communication barriers
culture and work habits differences
distance (expensive travels)
completely different time zone (it makes communication a lot more difficult)

usually higher cost than offshoring
cultural kinship (still there are some aspects to be considered such as holidays)
How to work remotely and effectively?
As you can see both types of IT outsourcing have their benefits and disadvantages, but no matter which one you will choose there are a few tips which can help you turn cons into its pros, and it's worth to follow them. Some of the disadvantages may look scary, like e.g. cooperation in different timezones. At first glance, it can be overwhelming but the truth is that it makes the whole process more fluent and provide constant development. In other words - when the product is developed by teams in different time zones they can pass their work to other developers which can start working on it immediately in their daytime. And I'm not making empty promises here, our team has experience in such projects, just to mention SportsHi, a React Native app which we created in cooperation with New York-based startup.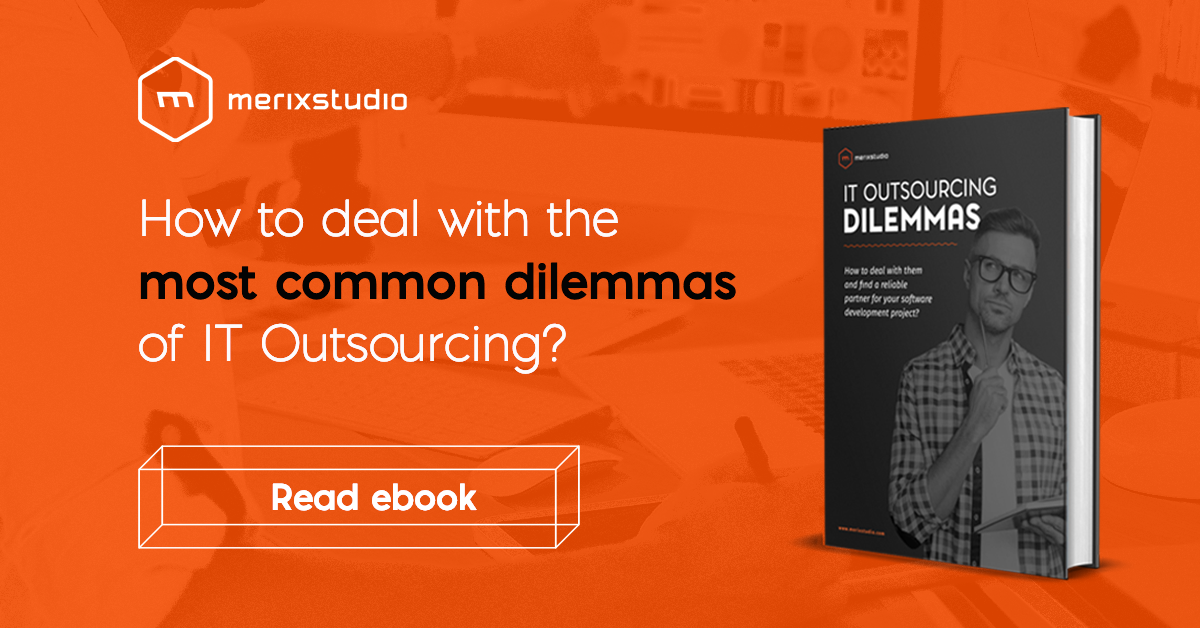 Where to outsource an IT project?
First of all, make sure your project is well-prepared for outsourcing, provide the background or business context of your product, and define clear and measurable goals. Once it's done, consider the best region for your project outsourcing. What to take into account at this step? Well, a few aspects matter when it comes to remote collaboration. In this case, communication is crucial so to ensure fluent software development processes you should stand for the high English skills, which can be easily verified during one of the first calls. You should also care about the quality of code, so make sure that the best software developers are working on your product. One of the most reliable ways of doing that is reading the clients' reviews. Software houses from central Europe, especially from Poland, meet this requires perfectly.
Why Poland?
There are a few reasons why Poland has gained popularity in the field of IT outsourcing in recent years. First of all, Polish programmers are one of the best in the world. According to HackerRank only developers from China and Russia can write better code than Poles. Some of the biggest advantages of Polish outsourcing market are relatively low costs without a damaging influence on the high code quality. Another great advantage is a very small cultural gap. What also matters are high language skills - you won't have problems with communication as Polish developers speak English fluently.
Choosing the right-shoring
Projects that can be precisely specified can be offshored effectively. This is why software development is often completed in offshore locations. On the other hand, the project that needs deep cultural knowledge or a greater degree of control should be nearshored. In this case, it's worth to look for software houses in the closest neighborhood. Thanks to this, we can meet the digital team personally and be sure that they understand our culture and habits.
So, both options are perspective and have their cons and pros that should be considered depending on the nature of the project and business' goals.