HealthTech is one of the most dynamically growing sectors right now. And there's no surprise here - the medical research has been in bloom as people want to understand their conditions, prevent diseases, and receive professional help in case of any problems. Digital healthcare solutions are quickly becoming our bread and butter, especially now, when COVID-19 has forced the whole industry to become more flexible and adapt to the rising demand for online care services. In fact, modern MedTech products help patients in their everyday life by providing them with an accurate diagnosis and enabling them better communication with care providers.
Over the last few years, we've experienced a huge expansion in the healthcare branch and this tendency seems to continue. It is important to remark the invaluable impact of technology on this industry. According to the Statista forecast, the digital health market has recently flourished and is expected to grow even more dramatically in the next 5 years.
Source: Statista
The whole medical sector has also obtained substantial funding. This rapid evolution, especially in the area of medical software, is driven mainly by telemedicine, IoT solutions, Artificial Intelligence, as well as AR and VR technologies.
MedTech solutions currently available on the market target a vast range of medical conditions, making the healthcare experience seamless, more enjoyable, and, above all, more efficient. Whether we need a consultation with a doctor in form of a chat or a video conference, want to measure our body temperature or glucose level via wearables, analyse our past medical records and compare test results, or simply implement new healthy habits into the daily routine, there are tools and applications designed specifically for these purposes.
City of Healthcare Stars
Companies all around the world come up with innovative ways to take healthcare to the next level. Some areas seem to be particularly favourable towards founders focused on medical services. One of them is Los Angeles, being known for an ever-growing network of local entrepreneurs. The city and its outskirts have it all to achieve success in the medical field - a rapidly growing community of experts, a startup-friendly environment, as well as top medical schools and establishments, such as UCLA Medical Center. It was only a matter of time when LA would become a digital health hub.
Los Angeles has a lot to offer when it comes to medical transformation. In this area full of innovation, there are several HealthTech startups that stand out from the crowd.
Healthcare startups in Los Angeles - our selection of the most interesting ones

Millions of people in the world are affected by mental illnesses and need professional help and support. Unfortunately, it's not always easy to find, especially if we're on a budget. This is where Advekit comes in. They've noticed the pain points impacting mental health services and created a powerful solution. It enables searching for a therapist suited to our needs, both in medical and financial terms. Based on the provided data, the platform matches us with the right professional. It simplifies the process of finding the doctor and paying for the therapy using your insurance, as well as other benefits. It's convenient for both patients and therapists, who don't have to take care of paperwork and formalities - the platform handles everything. Recently, Advekit's efforts in the mental health space have been noticed, as they have raised $2.6 million in funding. Currently available in 6 states, the platform is therefore likely to expand into new markets in the US.

Sometimes, we need to switch focus from our own health and help creatures that can't take care of themselves instead. The airVet mobile application allows us to do so by linking us with licensed veterinarians who offer their knowledge and skills to give our furry friends what's best for them. It's a modern telehealth solution that strengthens the relationship between vets and pet parents. Receiving support via videos or real-time chats has never been easier - the highest-standard pet care becomes available anytime, anywhere we are. Connecting with a professional is convenient and requires only 3 steps - creating a profile of a pet, connecting with a vet, and using a chat for follow-up questions. At the end of June 2020, airVet closed a Series A funding round to expand its activities and modernise pet care even further.

Anyone who has ever tried forming a positive habit in their daily routine knows that it is not a walk in the park. However, sticking to a responsible healthcare plan is essential to prevent serious medical issues in the long run, especially for people with chronic illnesses. This is where Wellth comes with a helping hand. This LA-based MedTech company used behavioural economics and Artificial Intelligence to create a state-of-the-art mobile application. Its goal is to provide users with regular incentives that motivate them to establish and foster good healthcare habits. The app helps patients abide by prescribed health plans for medication adherence. It is fully compliant with all important regulations, including HIPAA, Medicare, or Medicaid, to ensure the highest quality of healthcare. The main principle is simple - by forming healthy habits, the users are able to reduce hospitalisation and overall costs of care in the future. The user experience is being constantly improved thanks to human insights and thorough behavioural research. Numerous members of the community have already witnessed the effectiveness of the solution - their testimonials are posted regularly on the Wellth's website.

Health issues affect all of us, no matter our age, sex, or social status. Unfortunately, medication, especially prescription drugs, can be quite pricey, which makes them unavailable for unprivileged groups. As we should all have access to affordable meds, Honeybee decided to disrupt the pharmaceutical industry and introduce their own solution. This online, HIPAA-accredited pharmacy collaborates directly with FDA licensed wholesalers and distributors with the aim of offering prescription drugs at low prices. It is possible by not including insurance and performance fees that are present in traditional pharmacies. Honeybee services are currently available in 46 states. The company offers a large database where users can compare prices and place an order for their medication with free delivery. The team also runs a blog with wellness and self-care tips to provide its users with comprehensive services.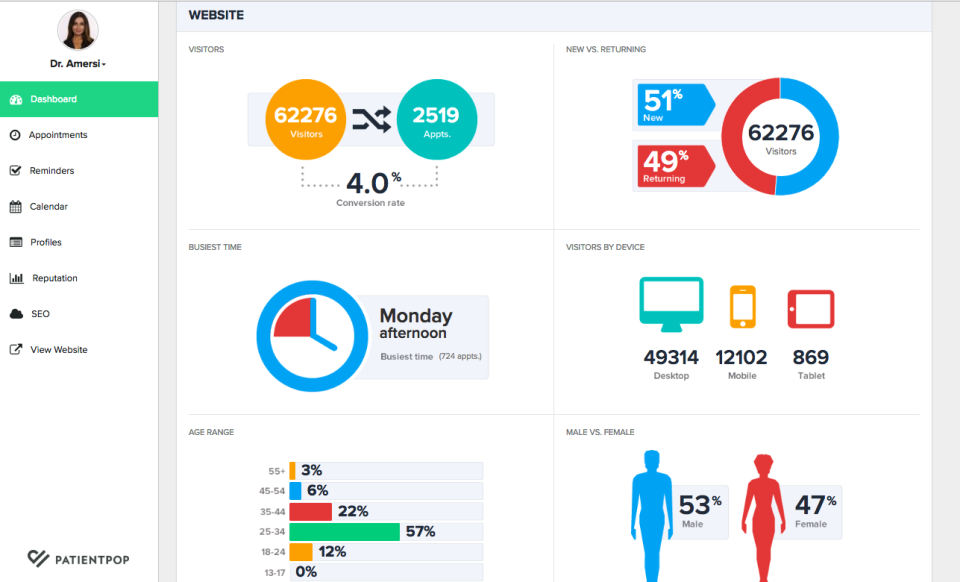 Digital innovation affects not only patients but also healthcare providers. The latter are able to thrive and build their reputation thanks to companies like PatientPop. With headquarters in Santa Monica, CA, this practice growth SaaS enables doctors from a wide range of specialties to improve the quality of services they offer by automating particular steps in the patient journey. It includes establishing an online presence and broadening the outreach, making an impeccable first impression, facilitating digital booking, providing telemedicine services, as well as managing tasks. The all-in-one solution enables practitioners to completely modernise and enhance the patient experience. The platform is integrated with the most common practice management and EMR & EHR systems. PatientPop was mentioned in last year's list of best entrepreneurial companies in America, published by Entrepreneur magazine.
We don't need bad medicine. We want to keep stayin' alive, and modern technologies can help us in doing so. You have an ingenious idea for the next HealthTech innovation? See how Merixstudio can transform it into reality and contact us to tell more about your project!