Have you ever wasted way too much time standing in line at the doctor's office? Waited weeks or even months for your appointment? Just to have a few minutes visit in the exam room? Or googled the symptoms to avoid that line (it's amazing how anything is cancer or tumour if you search long enough). No wonder that digital transformation has hit the medical industry years ago and initiated a whole new vertical that become a kind of runaway train - telemedicine. Its growth is expected to be valued at more than 175 billion U.S. dollars by 2026 (in 2019 it reached 45 billion).
This dynamic development is fuelled not only by current and future pandemic conditions (but there is no denying the health tech industry is on the winning side of this situation) but also increasing healthcare costs and ever-frequent occurring chronic diseases.
Today, health tech services and products that bring medical industry to remote level are so much more than just simple teleconsultation with a doctor. Here we've gathered some of the companies harnessing technology to digitize healthcare.
A remarkable example from our Poznan's backyard, couldn't miss you guys! IoT-based, AI-fuelled system for detecting lung and heart abnormalities works together with an innovative, wireless, electronic stethoscope. The examination can be made fully remotely and automatically from the patients home. The app is providing a doctor with the results enriched by a detailed analysis.
Precise, sound-vulnerable stethoscope supported by AI algorithms (both certified as a class 2a - CE 2274) boosts the effectiveness of the diagnostic process and monitoring long-term diseases such as asthma. Moreover, the system can be integrated with telemedicine and insurance platforms, and solutions like HIS and EHR.
Founded in 2015 startup has a quite impressive collection of achievements - starting from raising million dollars from investment funds (SpeedUp VC and TDJ Pitango Ventures) and EU grants, ending with wins within a startup, healthtech and design competitions. Although StethoMe is not yet available for commercial sale, the startup has already performed broad pilot studies in 2019 with Nationale-Nederlanden and Telemedico. The tests have shown that 87% of users would recommend the solution to their family and friends.
In the trying times of COVID-19 pandemic, the company strengthens and expands its performance rolling out across Europe in cooperation with partners i.a. in France and Spain and supports local isolation hospital in Poznan providing the doctors with StethoMe.
Another interesting piece of equipment is The RNS® System developed by Silicon Valley-based company, Neuropace. It's an implantable device developed to treat neurological disorders with responsive stimulation. After identifying where the seizure starts, the leads are surgically implanted at the seizure source and the neurostimulator is placed in patients' skull.
This is the world's first and only seizure monitor, and in recognition to its innovative purposes, NeuroPace won Most Promising New Product Award at the 2015 Phoenix Medical Device CEO Conference. They raised over 141 millions of dollars in funding since the company creation in 1997. Their most recent achievement is winning FDA approval of MRI labelling for its RNS system for people living with seizures that do not respond to medication.
Biovitals Platform, a FDA-cleared product developed by Biofourmis collects data such as heart rate, respiratory rate and activity. With the help of AI and machine learning-powered analytics engine, it identifies a correlation between activities and vital responses. Then any change of patient's baseline vitals is a sign of upcoming critical event enabling the clinician to react and take steps necessary to help the patient.
The company was founded in 2015 in Boston, and since then received $43.6M in funding. Acquired Biovotion, a Swiss company specialised in wearable health monitoring solutions in November 2019, and Gaido Health in April 2020 which means expansion to the Oncology Market. It's named Digital Therapeutics Leader and we think rightfully.
The technology is leveraged in Hong Kong, in a remote monitoring and disease surveillance program for patients with diagnosed or suspected coronavirus disease (COVID-19). This way patients' state can be monitored remotely, safely, and provided data will help better epidemiologic understanding of COVID-19.
SonderMind builds a national integrated network of behavioural health providers. Its goal is to find a mental health professional matching patients' needs based on information provided by the patient in the questionnaire that could be found on their website. After identifying patients with specific needs and finding matching professional available options are video chat or in-person visit.
SonderMind is based in the United States and available for patients from Arizona, Colorado and Texas. In the past two years, the company was funded $32.9M. In 2019 Sondermind was awarded Best Place to Work by the Denver Business Journal and hosted a hackathon to address today's technologies' potential for medical purposes.
TransEnterix is a surgical robotics company. The company is addressing traditional laparoscopy as it's facing many limitations such as operating room inefficiencies, as well as limited clinical intelligence. After releasing their first products Spider and SurgiBot System, TransEnterix continued to improve and developed Senhance™ Surgical Robotic System which helps in overcoming these limitations with state of the art technologies such as haptic feedback and eye sensing camera control for best performance during the surgery.
Globally, the company raised over $303.1M in funding and $24.1M in revenue while spending $21,8M for R&D.
MedTech World also appreciates TransEnterix by awarding the company with Best New Surgical Technology Solution at 2019 MedTech Breakthrough Awards and Innovation of the Year award from the Society of Laparoendoscopic Surgeons.
Medicalgorithmics is a Polish company that develops advanced systems for cardiology. Their products - PocketECG and PocketECG CRS are available in 13 countries and have so far generated over 1,5 million diagnostic reports and recorded 8 million days of ECG signal of the heart beating.
PocketECG is a mobile monitor for cardiovascular monitoring, arrhythmia diagnostics, post- and pre-surgery monitoring, step-down care monitoring, cardiac rehabilitation and Cardiac Safety.
PocketECG CRS enables telerehabilitation. The monitor saves the ECG and patient's vital signs (e.g. heart rate) during each rehabilitation training and allows the doctor to see vital signs viewing real-time during patients session.
The company won the awards at the Health Care Forum in the category "Production of medical equipment and devices" and at the Development Vision Forum in the "Innovativeness" category and closed the year 2019 with over a million dollar in revenue.
Protoqual is a company with expertise in education in the field of medicine, both administrative and practical. Founded in 2016 the company targets its products to U.S. based practitioners. Until now, it was funded $575K in total, with the revenue at $5 Million.
Its main products are:
Primary Care utilizing data analytics and Machine Learning to match the right education with already possessed knowledge and its deficiencies to improve clinical knowledge and performance.
Patient Experience is a mobile-friendly platform delivering solutions to enhance the quality of service, employee satisfaction and quality of learning. To achieve that the platform uses patient experience data and every complete education picture including test scores and taken lessons to best measure learning quality. Short videos and review tools provide a more accessible way of learning and gamification which creates a friendly learning environment and students engagement.
Quiqnote helps students to keep the notes and materials organized, with highlighting tool and tags the most relevant things are easy to memorise and find. Unwanted content can be left behind and potentially interesting publications on selected subjects are automatically tracked.
In the times of pandemic, Protoqual expanded its library of education with COVID-19 safety information. The materials are dedicated to front line medical office staff and patients.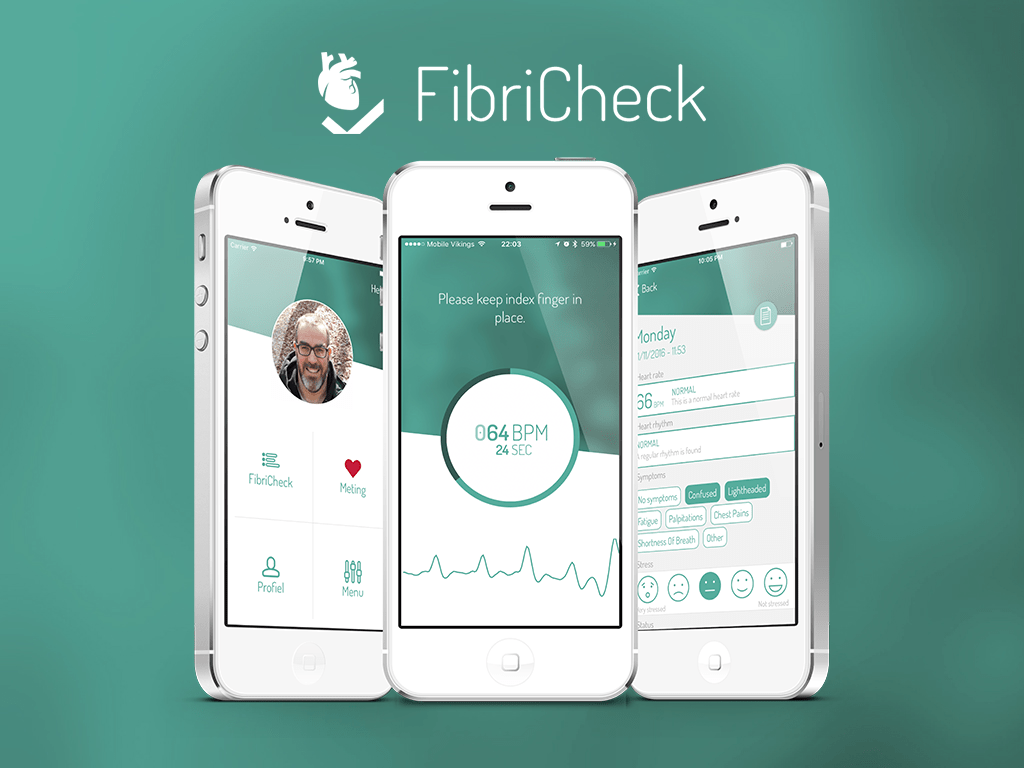 FDA-approved, CE-marked mobile application measures the heart rate using a smartphone's camera by simply putting the finger on it for one minute. It shows the results in real-time and prepares detailed rapport that can be shown to medical experts.
In September 2019 the company announced an expansion to wearables in partnership with Fitbit - one of the biggest producers of activity trackers and fitness smartwatches. Within this cooperation, Fitbit's commercial-grade PPG captures heart rhythm and share the results with the professionals using FibriCheck web interface. The app is available for users in Belgium, the Netherlands, Ireland, the United Kingdom, France, Germany, Italy and Spain. At the beginning of April 2020, they also released a nighttime monitoring feature for Fitbit.
The company was founded in Belgium in 2014 and since then gathered $1.7M in total in funding and revenue around $2 Million.
Symptoma is an online bot for checking symptoms to find possible diagnoses with a disclaimer that it is not a replacement for clinical diagnosis, but a suggestion for information purposes. It's so much better than just typing the symptoms to Google because it's driven by AI and data fuelling its engine come from 14 years of experience and medical knowledge. The bot is asking additional questions for symptoms associated with the ones provided by the patients to better understand their state.
Symptoma is based in Austria and it's available in 31 languages. Since its founding in 2009, the company was funded €2.5M and over $1M in revenue and won 46 international awards
It's a platform providing patients with real-time medical help, accessible 24/7. After the online consultation, everything stays saved in one place including treatment plan and prescriptions. The solution is available for individual patients as well as the employers and groups.
The company was formed in 2010 and it's regularly funded by investors. Up until now, HealthTap obtained $88.3M in total and more than $1M in revenue. The brilliance of the platform is appreciated not only with money flow but also in awards. HealthTap won The 2015 Webby Award for Best Mobile Sites & Apps: Health & Fitness.
In those trying times, HealthTap provides patients with Covid-19 consultations free of charge.
Making your own health tech solution? See how our experts can help to turn your idea into a fully flagged product or scale the existing one!