Ecological status quo
Hard data doesn't lie - over the last years, global warming has accelerated alarmingly and the average temperature has grown at a rate of 0.18°C per decade since 1980s. Every day, we witness ecological disasters disrupting the lives of animals, plants and humans. Recent research and stats are far from optimistic. Fortunately, a huge part of the population have answered this last call from Mother Earth and started introducing changes to get back on the right track. People are actually willing to spend more money on sustainability-related causes and eco-friendly alternatives.
Sustainability is no longer a niche, really - it's become one of the major drivers of the global economy. Each and every day, we hear about new initiatives related to low-waste living, circular economy, carbon footprint reduction, veganism, or using clean beauty products. Another big area that has undergone significant growth in recent years is renewable energy, derived from natural sources and slowly replacing fossil fuels. Wind or geothermal energy are a great alternative to detrimental coal or oil. Solar energy is another one gaining more and more popularity, especially among individuals who use it to satisfy their personal energy demand.
Thanks to considerable progress in technology and science, solar energy equipment becomes more efficient, visually appealing and available to a wider audience. The switch to this power source can also be seen in the available statistics. Investment in solar projects has gradually increased in the last decades, giving foundation to companies determined to use the planet's resources in the most sustainable way.
New investment in solar energy technology worldwide from Q1 2018 to Q2 2022 (in billion U.S. dollars). Source: Statista
Let's have a look at some of the businesses currently disrupting the solar energy sector.
Who's driving the change? Top 10 solar power firms to watch in 2023
The spectrum of businesses rocking the solar energy industry is impressive. Here's our selection of top solar power firms to follow.
Solar panels. Source: Guzman Energy
There's a common impression that living a more sustainable lifestyle is not something that everyone can afford. Companies like Guzman Energy try to change this view and bring eco-friendly energy to everyone, including underprivileged communities. They're a wholesale power provider operating across North America. They've partnered up with multiple institutions and municipalities to promote the clean energy movement and help people terminate expensive coal power contracts to make the solar-for-coal swap. In recent years, they've been supporting many solar projects, including a deal with Primergy Solar. Guzman Energy has also been mentioned in the top 10 most innovative companies in the Fast Company's ranking and among 17 ventures that embody the U.N.'s 17 sustainability goals — a well-deserved place!
DC charging station. Source: dcbel™
Although Canada is well-known for its wide use of hydro sources, solar energy also plays a role in the country's initiatives towards a more conscious and sustainable lifestyle. dcbel™, based out of the charming Québec province, is one of the businesses that has decided to make good use out of it. Founded in 2015, the company provides their customers with Home Energy Stations that can supply both houses and electric vehicles with solar power.
The stations have different levels of complexity and feature inclusiveness, making it easy to personalize and adjust them to specific needs of each person or family. On top of that, dcbel™ provides an Internet of Things (IoT) management platform which has recently been given the Common Smart Inverter Profile certification. The software equips users with the necessary components to optimize all residential devices and monitor their performance.
Powerfoyle™ - patented solar cell material. Source: Exeger
Sweden is considered one of the most sustainable countries in the world. No wonder it's a great place to start eco-driven businesses. One of them is Exeger, a deep-tech company offering unique solar cell material called Powerfoyle™. Their goal is to generate electricity from light in any form, without the limitations of traditional, large solar panels.
Exeger's solution can be used in everyday life and may be integrated into different types of electronics, such as headphones, remotes, sensors, or e-readers, making it easy to transform both indoor and outdoor light into energy. The team have been attending many international events recently, sharing their ideas and clean-tech mindset with a bigger audience. They've also partnered up with tech-focused companies (including Nisshinbo Micro Devices or EM MICROELECTRONIC) to improve their innovative solution and enable the integration of Powerfoyle™ into a plethora of products.
Skyfri Intelligence management platform for solar assets. Source: Skyfri
Sweden is not the only Scandinavian country that is well-known for supporting eco-friendly initiatives. Norway is also a fertile land when it comes to clean tech businesses. Skyfri is one of the notable examples. The company has been created by co-founders of Norsk Solar, an innovative provider of on-site solar power plants.
Skyfri collaborates with the owners of solar power plants, offering them an inclusive management platform to automate daily operations. As a result, Skyfri's customers are able to maximize their production levels and optimize costs by detecting performance issues and supporting the problem-solving process. The end goal is simple - facilitate the maintenance of solar facilities, making solar energy more accessible for the years to come. Skyfri's efforts in promoting the renewable energy haven't gone unnoticed. In July 2022, the company raised a funding round to further expand their activities.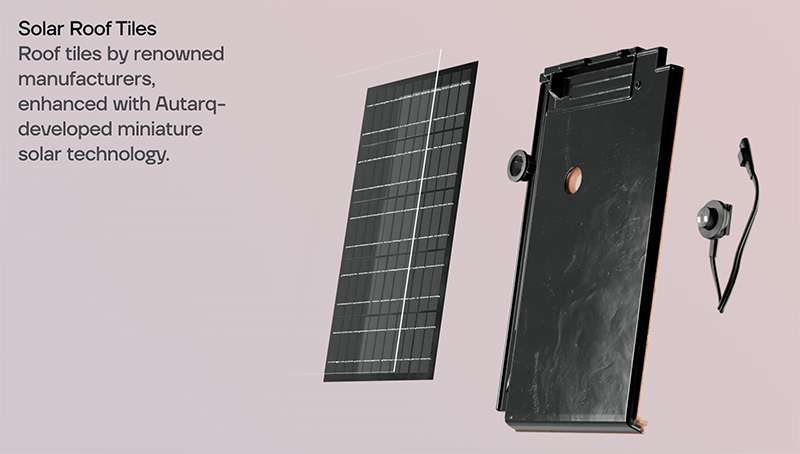 Solar roof tiles. Source: Autarq
Autarq is a climate tech company from the solar energy industry that has brought innovations to the European market. It has been operating in Germany for 10 years, with the goal of working together to save the planet and fight climate change. Autarq's team develops high-quality, easy-to-install PV modular architectures that serve as the foundation for integrated photovoltaic systems. Their innovative solar modules look like traditional roof tiles, making it easy for users to maintain a uniform aesthetic for their homes, which is especially exciting for buildings that are not suitable for regular photovoltaic systems.
Autarq's activities are supported by the European Union and the German Sustainable Building Council. Autarq is also a winner of the Design Awards 2022 for particularly outstanding design. Merixstudio had the pleasure of working with Autarq to help them develop their web solar module platform for customers. Their new website just went live, coinciding with a crowdinvesting campaign!
Raptor Solar SaaS platform. Source: Raptor Maps
Having a solar panel system installed is one thing but it's not the end of the journey, is it? It's also crucial to monitor its productivity, handle inspections and warranty claims, perform updates to stay aligned with the standards, and ensure the overall good performance. Sounds pretty overwhelming but perhaps there's a way to make this process smooth and easy?
Raptor Maps seem to have found the perfect solution. This American company uses advanced analytics and insights to help their customers—including large-scale solar power firms—manage the entire solar lifecycle. Their solar analytics and productivity platform is an all-in-one software as a service (SaaS) product, leveraging modern tech to optimize photovoltaic assets, standardize data and streamline all related processes. The solution has already been globally recognized and used by big players in the solar industry, including Ameresco, Enel Green Power or Tesla. Earlier this year, Raptor Maps have received a Series B funding to further develop their platform and invest in data science activities.
Selfmade Energy web comparison portal. Source: Dribbble
Germany is undoubtedly a good market for clean tech initiatives and businesses. While the country still relies on fossil fuels or nuclear energy to some extent, the percentage of electricity produced from renewable energy sources has rocketed since the beginning of the twenty first century (and even more in the recent months). One of the companies that noticed the business potential there is Selfmade Energy, a startup founded in 2019 by dr. Tim Rosengart with the goal of facilitating the choice of a solar system provider. They've created an intuitive web comparison service, dedicated to customers in their local area, encouraging them to invest in clean energy and save money in the long run.
The app's users are able to compare multiple offers at once, without having to actually meet the suppliers' representatives. The platform shows different options based on pricing, availability, and services included - this way, everybody can find the most suitable supplier.
The founder built this product with the support of Merixstudio's experts who performed an intense product discovery workshop session. Based on the findings, the software team helped in defining the most reasonable project scope, enabling Tim and his colleagues to achieve their business objectives.
Installed net power generation capacity in Germany 2002-2021. Data: Fraunhofer ISE 2021 (2021 status of 30 November). Source: Clean Energy Wire
Solar quotes comparison platform. Source: EnergySage®
Governmental organizations often support sustainable businesses, giving them a powerful incentive to grow. It's also the case for EnergySage®, a Boston-based company behind the leading renewable energy marketplace in the United States. Their platform enables users to search for the best solar panel installer in the local area and receive a quote to evaluate available options.
Customers can search through a huge database of pre-screened solar installation companies and manufacturers to make an educated decision about their energy provider. This year, Energy Sage® has been acquired by one of the leaders in the sustainability movement, Schneider Electric, making it easier to speed up their growth and increase their reach.
Project Cürv Visualisation. Source: Project Solar UK
Let's now take a look at the other side of the Atlantic Ocean, shall we? British Islands have been another favorable location for solar energy businesses, including Project Solar UK. It was created with a clear mission in mind - enabling regular individuals to play an important role in the eco-friendly movement. They provide low-cost solar panels across the UK and deliver high-quality expertise to make sure the installation is done with the best standards in mind. Apart from the solar systems installation (using SunPower equipment), they work on a few other initiatives, including Project EV (a home electric vehicle charger) or Project Cürv (aiming to increase energy efficiency in whole buildings).
Real-time analytics software. Source: Smart Helio
We're finishing off the list with a predictive maintenance solution for solar plants, coming straight from Switzerland. This Y-Combinator startup has already revolutionized the market with its real-time analytics and IoT solution, allowing users to monitor their solar plants' performance. This way, they're able to analyze critical factors, optimize activities, and minimize the risk of failures or downtime disruptions. The company is collaborating with big European players including Romande Energie, or Acciona and was recognized by international institutions. SmartHelio are a proud Certified B Corporation using Big Data to become, as they call it, "the doctors for solar plants".
So what to expect next?
It's probably too soon to speak of a breakthrough but there's no denying that some positive changes and movements in the fight-for-climate sphere have happened. Solar energy has become one of the main pieces of the puzzle we use to stop global warming and make our planet a better place. Let's hope the choice of renewable energy sources will become a default rather than exception from the rule. When the climate crisis hits hard, there's always the sun you can count on. And when you lack technological expertise to introduce new, eco-friendly solutions, there's the Merixstudio team, ready to support you in your business activities. Our sustainability portfolio grows bigger every month and we're happy to contribute even further to climate change mitigation.
If you need professionals to create, scale up, or modernize your solar energy digital platform, check out our services and let's talk!