Like I mentioned before, growth is crucial. I'm referring to both the company and our people. Now we have over 70 folks on the board. You can join one of our teams: Backend, Frontend, QA, PM, UX, UI, Sales, PR&Marketing and HR. Each of them has its Team Leader who organises and steers the work of the team as well as takes care of the development of individuals.
We mostly work with foreign clients - from all over the world. These are usually startup founders with great ideas which translates into custom, extremely interesting software development using top-notch technologies and trending tools.
To know more about core technologies we use and projects we work on, jump into our portfolio site. By standing tuned with blog posts we published regularly, you can learn more about how the development process looks like at Merixstudio. Take a look at case studies blog category to find out how we've built specific web applications.
The office of Merixstudio
I'm sure that the place that you work in is crucial. Working conditions are almost everything. We're based in Podwale Office Center - the modern office building on Małachowskiego street in Poznań. Excellent access - Rondo Śródka is nearby, so there's no problem with getting to work, home or meeting with friends downtown.
Merix folks work in an open-plan office fitted with beanbags creating a chill out areas. Also, you can find here a lot of conference rooms at your disposal. You can use them if you have a conference call with a client or just need this space just for you. Next to the entrance to each of conference rooms you can see little screens - it's a booking system we made ourselves.
Speaking about conference rooms, I have to mention that they are not only useful and modern but also beautiful. Merixstudio loves Poznań, and it's evident while looking at our rooms. Our magnificent city is the theme of the office. This is the reason why we called rooms just like the most popular spots in Poznań, i.e. you can have a meeting at Plac Wolności, MTP or Old Market Square. The one that we love and that is the most creative is Bułgarska street. As its name indicates, it looks like city football stadium - grass and tribune are there.
Another place that we really like is, of course, chill room. It's the place where we can play PlayStation (FIFA is the most popular game), eat something, read a book from our bookcase, play foosball or arcade machine or just… relax :)
I'm sure the equipment is something interesting for you. We work on MacBook Pro what is a standard now. Also, if you join us, you'll get wrist rest pad, footrest under the desk and onboarding guide. Speaking about a desk, it's electric lift desk, and you can sit as well as stand while coding.
Benefits and perks of Merixstudio
And finally, what we like the most - benefits and perks that we offer to our teams. A few reasons that (hope) convince you why you'll enjoy working with us.
Project bonuses
At Merixstudio we decided to give developers the opportunity to work together with the rest of the team their way to a specific cash bonus. You will receive so-called project cash bonuses which are added to each project you participate in. To learn how it works, take a look at the article which covers cash bonuses at Merixstudio. In a nutshell, every project team can achieve even up to 6% of a project's value and divide it - it happens every 3 months (unless the project lasts less).
Feedback sessions
We want to be up to date with the development of each employee. We have regular feedback talks with Team Leaders of a specific team. It takes place twice a year, and we discuss the personal growth of each of us.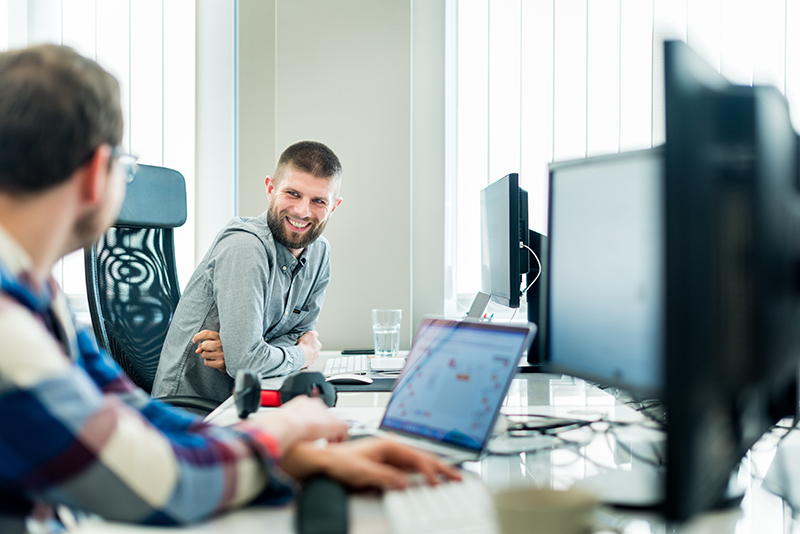 Internal workshop
Every team has its internal workshop. Thanks to that we can regularly update our knowledge on best software technologies and tools.
Remote work or work from home
Feel like staying home? It's no problem! You have the opportunity to work from home and use not limited home office mode. Then you can work from wherever you want to - from home, summer house or by the lake. We just want you to have a good internet connection. After you decide that you prefer working remotely, it won't be a problem as well.
Flexible work hours
We start our work day between 7 AM and 10 AM, and these are the only rules. You fit in as you like. If one day you happen to stay longer, there is no problem for you to leave the office earlier the other day. Trust is everything for us, and years of practice have led us to believe that this kind of freedom makes us very creative and productive. However, we use SCRUM, so you should be on time in the office (or connect remotely) to attend a planned daily meeting.
Free English classes
As I mentioned above, we work with clients from all over the world. Therefore, each of us should know English well. It's often the case that a client wants to meet a team that she/he will be working with. This is the reason that we want you to communicate freely using English. To make it easier, we organise free English classes with native speakers just after work hours. You can join one of two groups divided according to the level of advancement.
Free multisport card
We offer something good for the soul and something good for the body. Let's face it, software industry people are condemned to sedentary work. The physical activity after hours is significant to stay in good health. Merix people can use MUltisport card financed by the company and sweat in the gym entirely for free.
Fresh fruits
Twice a week, a lot of fresh fruit comes to the office. Then we go bananas, and we gorge ourselves on it with great pleasure. There's nothing better than a vitamin shot!
Team parties
We really like each other. We try to meet not only at work but also after it. Team parties are an excellent opportunity to talk and have fun together. We have a special party budget that increases every month with a specific amount of money. Yep, we party almost every month :) The whole organisation is in the hands of Ola who knows precisely what we love. Besides, we make the decision on what and where we're going to do together.
Take a look at our Facebook profile or Instagram profile to find out what Merix parties look like ;) I'm sure you'll feel the atmosphere and fun looking at these pics.
Hope these points convinced you to give us a try and you think that Merixstudio may be the right place for you. For even more details, jump into our career page or drop me an email at jobs@merixstudio.com. I'm looking forward to hearing from you!