Why is everybody talking about values?
First things first: let's begin our story by taking a closer look at what place values hold in today's corporate world. Over the last couple of years, company values ​​have grown to be an essential part of brand communication. On the one hand, defined and accepted, they represent companies' maturity and build their competitive advantage on the market. On the other hand, communicated clearly, they are supposed to be inspiring not only for employees and candidates but also for clients and contractors. It's also worth mentioning that from the organization's point of view, company values foster a sense of stability and support the implementation of business goals.
If values are of such importance for employer branding, it shouldn't come as a surprise that we often find them in the spotlight. They are discussed in blog posts, social media content, or recruitment materials. In the office spaces, they ​​can be found on the walls in the form of murals or posters. Sometimes, they are even the subject of entire publications: value books that describe what defines the organization and how these principles are implemented in everyday work life.
With so much attention being devoted to values, it would seem that the topic's been exhausted and we can't contribute much more to the discussion. But there's nothing further from the truth! Although the general importance of brand values has been discussed at length, the priorities of each company ought to be explained in greater detail. Why? For a couple of reasons.
Firstly, because without defining values ​​and communicating them clearly, it would be impossible to build a strong organizational culture. Secondly, because the sense of purpose is the second most important criterion for millennials considering a job. There's also a third, more personal reasons why we decided to devote an entire article to our identity and vision; namely, we'd like to show that our values are not just empty words but actual actions.
If you are wondering if it is worth spending your time on an article in which we'll be talking mostly about ourselves, the answer is "yes, yes, yes, and yes" – and I am not saying it only because I am the author of this blog post 😉 Here's what you'll learn from this read:
why values really matter and why we refrain from prioritizing them
what it took to work out a consistent approach to values,
how we implement this vision within and outside of the organization,
what cognitive dissonance is in relation to brand values,
what it means to let values shine through evidence.
It's not about motivational posters – it's about what you believe in
Regardless of whether you're about to rearrange a catalog of organization values or you're only beginning to create it from scratch, we believe that supporting your actions with internal analysis is key. Values should neither be imposed nor drafted overnight. On the contrary: as they express what life at a given organization is like, mores ought to be defined by people who put them in practice, meaning a larger group of employees. Moreover, as we mentioned above, values are often one of the decisive factors behind choosing your workplace so once you join a given organization, you should feel well-aligned with them and know that your actions shape them to a certain extent. Let me give you two examples to prove my point:
Kamil has been a part of Merixstudio's Business Development from the very beginning. He remembers the times when our company was in a completely different place and the organization culture that persists to this day was only starting to take shape (with Kamil's support, by the way). Over the years, his team underwent and brought about many changes, including the ones concerning collaboration best practices. Today, we can be sure he knows the company values and works in full harmony with them.
I, on the other hand, have been working at Merixstudio for over a year now. Joining the team, I knew what values the organization professed – and I don't mean the list of five main values but rather all the activities that made me think of Merixstudio as "my future company", "employer of choice", and "the place where I want to be". I accept these mores, I identify with them, and most of all I influence the way they are implemented.
As you can see, a holistic approach to defining our vision ensures we build a coherent image of Merixstudio as an employer and business partner. Putting all pieces of identity and values together, we create a synergy between them and leave no room for dissonance – but more about it later on.
But how do you arrive at such synergy?
Sure, when we describe it like that, alignment in terms of brand values and actions seems like an easy jigsaw puzzle – although it ain't that easy when you've got to take care of dozens of pieces at a time. It's probably because from the psychological point of view, after achieving notable success, we tend to disregard – often completely unknowingly – more difficult moments. So to be more precise, we could say that we assembled a team and took a path full of micro-successes at the end of which we found the holy grail of a coherent approach to values. Values that didn't change much since the birth of Merixstudio but expanded their scope and gained importance with time.
And that's our tip for everyone: get your team involved and walk this path together!
Conscious growth has always been one of our internal goals and in recent months, when our organization has expanded rapidly, it became more important than ever. Along with the increase in the areas of engineering, product design, and business development, the team dealing with Employer Branding and HR expanded as well. We decided that it was the perfect moment to inspect our internal and external EB activities, and asked ourselves a few questions:
How do our employees perceive our values ​​and how do they understand them?
How do our clients and candidates perceive them?
Are these values still valid, what is their scope, what do they mean to us?
Do they really support our organizational culture and allow us to remain consistent?
And above all, do they have a positive impact on our people?
What's important is that we didn't look for answers on our own. Instead, we planned our work based on the results of the satisfaction survey and gathered a working group including representatives of different departments. We engaged in stimulating conversations on different levels, analyzed employees' involvement in various initiatives, discussed blockers leading to some ideas not making it to the implementation phase, and created case studies that helped us determine what actions we should undertake to be coherent. We also asked employees about issues that usually divide, and interestingly enough it turned out that in every case we managed to find a consensus.
These discussions were so creative that we couldn't keep up with taking notes. We won't lie: the analysis of surveys, our activities, company goals, and development plans was a complex process. For the EB team, this meant months full of challenges but our efforts were rewarded with a very special feeling: fulfillment.
Cut to the chase: our brand identity and core values
Imagine you've been tasked with defining your brand identity. The result of your efforts will most likely be a long list of different values – but how do you narrow it down to, let's say, a couple of positions like many renowned brands did? After all, they all convey the idea of what it means to be a part of your company.
We're well aware of how difficult a task it is to single out a couple of bullet points – especially that such an approach carries a risk of respective values being considered in isolation. For that reason, we pay special attention to reading our mores together. They are all equally important to us since they tell the story of our brand: what has shaped us, what happens now and what we're expecting in the future. So although I'll introduce you to Merixstudio's five core values in a moment, remember to treat them like a single comprehensive roadsign standing on the way to a friendly, respectful workplace built with plans and goals in mind.
As far as our brand identity is concerned, Merixstudio is a design & development team of creative technologists that turn ideas into great digital products. We are fuelled by a passion for people and the newest technologies, partnership with our clients, and a company culture based on trust, cooperation, and team spirit. Our core values are atmosphere, trust, partnership, passion & growth, as well as creativity. Not only are they the backbone of our brand identity but also the driving force behind all actions we undertake. They suggest what our efforts should be focused on and influence the perception of our organization even by those who only get to know us.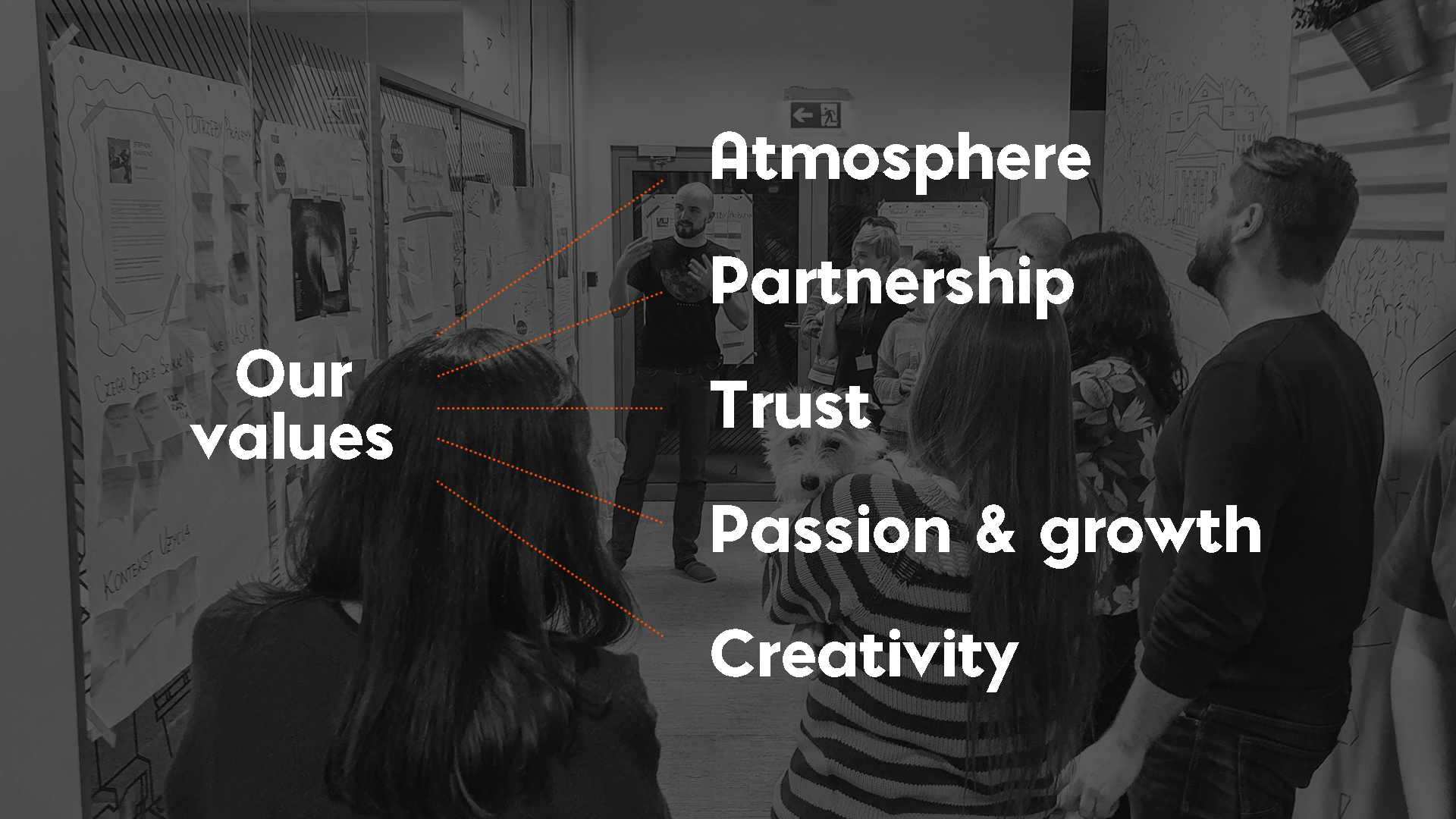 Is it possible to describe them so as to disclose their full meaning? Well, the more we get involved in this creative process, the harder it is for us to put it into words. So rather than writing lengthy definitions, we focused on the real-world evidence.
The moment you join us, you instantly get involved in the life of our organization. And it's much more than just a workplace: Merixstudio is a place where we pursue passions, share knowledge, and grow on many levels. And we're not ashamed to talk about it with candidates, clients or contractors. But you don't have to take my word for it…
Sometimes we storm into the chill room to eat pizza together
Sometimes we get into stylish dresses and glamorous uniforms
And sometimes we turn into Santa's elves
Our organizational culture makes it easy for us to adapt to the communication preferences of clients from around the world. We're open-minded and aware of their needs – on top of that, best practices we follow are grounded in experience and consulted with all teams involved so that we can offer our clients optimal solutions. When we speak about partnership, we also speak about mutual understanding and respect within our organization, both of which influence the quality of our work.
We profess trust at all levels of cooperation which allows us to build transparent relationships and share thoughts freely. We know that clashing opinions are the driving force behind positive changes, so we express them loudly without having to worry about rejection.
We love to evolve! Our growth is conscious, fuelled by a passion for technology and, above all, a passion for people: teammates, candidates, clients, contractors. Motivated and engaged, we can successfully build our clients' brands and support them throughout the entire software development process. A sense of fulfillment is important to us.
Honing our skills is an inseparable part of our work
We love sharing our knowledge as well!
We're constantly stepping our game because mutual trust and passion for growth allow us to reach new horizons. We are not afraid to talk about our ambitions and support every team member on their way to success. We also support creativity daily as we always encourage each other to get involved, share ideas, and build a strong community together.
Every once in a while we unleash our creativity – sometimes it means walking into a NASA scientist's shoes
And we love sharing the fruits of our creativity with others!
And since the only certain thing in life is change, we regularly ask ourselves:
How else can we embody our values?
Then, we analyze our short- and long-term plans to find out if we do everything we can to convey our culture. It warms our hearts to see others recognize our values but we feel even greater satisfaction when we see them live in our organization and evolve thanks to feedback from our employees.
So how do we actually put our values into practice?
We put in every effort to make our communication and corporate structure transparent
During the recruitment process, we talk openly about the culture of our organization. We also allow candidates to get acquainted with this culture prior to applying for a job, e.g. during informal meetings and events.
In relation to clients, we're open-minded, cooperative, and proactive in seeking the best solutions
We launch internal initiatives that promote our employees' passions
We foster knowledge-sharing and support feedback culture, both in projects and in relation to the entire organization
We bear values in mind when deciding on involvement in CSR and charity campaigns
We build communities and promote our experts' personal brands
As you can see, our internal and external undertakings are always connected – that's because we believe that a strong organization can cater to the needs of both hires and clients. Seeing our long-term employees being in love with our culture means the world to us – but no less satisfying is the appreciation of those who have joined us fairly recently and are fully engaged already.
It's safe to say that it's thanks to the entire Merixstudio team that we, the PR and HR specialists can accurately present a consistent image of who we really are – and thus save our followers from the sense of cognitive dissonance ;) How come? It's simple: everything we post on social media is the reflection of what you can experience during our events. There's nothing to hide and no surprises are awaiting you IRL. Once you enter our world, you will surely feel like home, whether you're our employee, client, contractor, or you just dropped by to see our office and have a cup of coffee.
Building a value-based organization is anything but a trifle. It's an arduous process requiring courage to step outside of the comfort zone and open yourself to cooperation – all to achieve goals well-aligned with how we perceive each other and the organization. It's a joint effort which proves that strength lies in unity and being true to ourselves. But it's also something that makes you feel incredibly fulfilled once you can enjoy the fruits of your labor. That's why when you ask "Why should I care about being part of Merixstudio?" we'll tell you something simple yet 100% true: "Because we're nice people to work with". That's just who we are.
If you're a nice person to work with yourself, you'll feel like home at Merixstudio. Check out our job offers and join us today!