Browsing Clutch allows buyers of professional software development services and to find the most reliable companies to meet their specific programming needs. Thanks to an innovative research process that melds the best of traditional B2B research and newer consumer review services, Clutch can help start-ups, mid-market, and large enterprises find partners for either one-off projects and long-term relationships.
To make a long story short - Clutch identifies leading software and professional services firms that deliver results for their clients. A few days ago they published their newest report on top software and web developers in Poland, which was based on the new data points and verified feedback of clients. We're happy to announce that we're one of the companies they mention as Poland's best!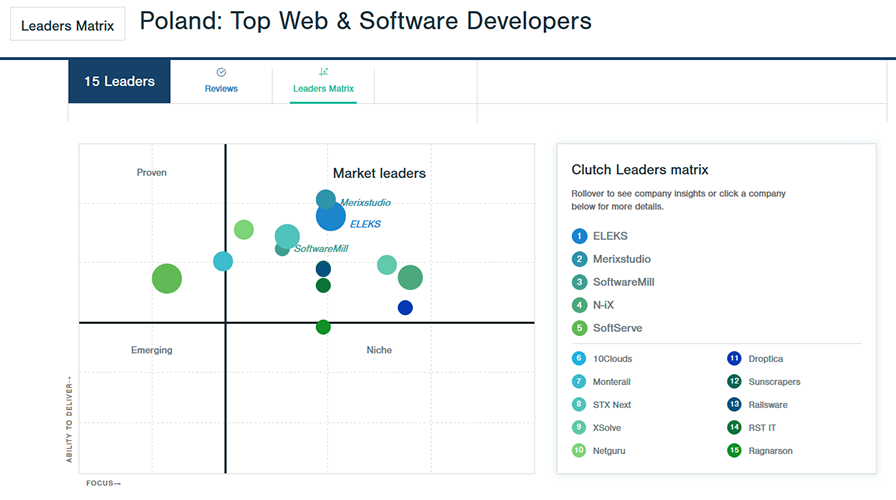 A total of 23 of our clients gave us an average overall rating of 4.7 (out of 5.0)! It's a really great result for which we've been working very hard.
Merixstudio is listed as the Top Web Development Companies in the world as well. We're honored to hold a third place designation on this list. But that's not all! Because of our strong skillset of Python/Django team, Clutch and clients' reviews put us right at the top of best Python & Django Developers. It all makes us proud.
In their report Clutch explained how their ranking came to life:
Clutch analysts gathered evidence of significant industry experience, evaluated related corporate digital properties, and conducted in-depth interviews with current and past clients. These efforts produce a snapshot of business performance in real-time, helping buyers better understand vendor capabilities and limitations in a dynamic marketplace.
What does it mean to us? Well, thanks to the reviews posted on Clutch we can continuously ensure the best quality of our services. If you want to see for yourself how our clients described our cooperation, check out our profile with full-length reviews!
Are you thinking about outsourcing your project? Well, our articles regarding this topic may help you to understand how it works. You can check out the guide to web outsourcing and learn about the cost of a high-quality code.