Why should you attend Python conferences?
First and foremost, you should reflect upon what you want to accomplish by attending Python tech conferences. So why is it worth to participate in such events? We asked our team that question and here's what they told us.

If you are: 
A CTO
to be up-to-date with the newest technologies and frameworks
The company's technology needs are ever-changing, It's CTO role to keep an eye on the horizon, an ear to the ground and a nose in the wind. Tech conferences are the best place to find out what's hot. 
to make technology decisions based on valuable knowledge
At renowned conferences like PyCon, you have a chance to listen to prominent keynote speakers. Mostly they are experts with years of experience who share their insights into software projects and technologies.
to manage innovation effectively
One of each CTO biggest concern is to discover and implement new technologies that yield competitive advantage. Here's where such events come with help.
to show your innovative projects
If you successfully apply for a speech, you will get an excellent opportunity to showcase one of your projects to a concerned, exclusive audience. 
A Developer
to keep abreast of the latest technologies and their features
As technologies changes very fast and new updates may sometimes go unnoticed, it's worth to attend such events just not to be out of circulation.
to improve programming skills
Python conferences are an excellent platform to hone coding skills during numerous workshops and to take part in a hackathon.
to check out the jobs board
In general, event sponsors are given the green light to publish their current openings both online (on the event website) and offline (e.g., recruitment flyers in conference package). 
to network with other dev buddies
Why not have some drinks and share ideas with other Python developers? Building connections during such events may pay off in the future.
An HR executive 
to reach talented developers
With or without a booth, conferences and meetups (especially after parties) are probably the best spots to meet potential candidates.
to enhance employer brand
Conferences like PyCon US gather even 3,400 attendees. It's a great opportunity to chat with people and generate a positive buzz for your business. 
5 Python Conferences to Attend in 2018
There are three months left to celebrate a New Year. It's a lot of time to look for the hottest Python events worldwide and attend the most valuable for you. We've already given you a few good reasons why you should participate in tech conferences, so now it's time to present the ones we chose. 
Surfing the internet you probably ran across Python.org website which is a reliable source of information about Python programming language and all connected to it. They made a huge list of Python events which helped us to pick the essential ones.  So here are 5 great Python conferences ordered by date.
When? October 14-19
Where? San Diego, California, USA
Why? Numerous tutorials, dozens of talks chosen by the community.
It's a conference for which you should prepare yourself well. DjangoCon US is a six-day international event for the community by the community about the Django web framework.
It looks like it's a marathon for Django lovers: six days of talks, sprints, and tutorials in sunny California (and who doesn't want to catch the sun in the middle of autumn?).
The conference brings project maintainers, leading teams, passionate researchers, and creative enthusiasts under one roof for a jam-packed week of knowledge sharing.
As organisers say, 'DjangoCon US has something for everyone, from the person who develops Django applications for a living to the person who just tinkers in their spare time'. Sounds very promising! The conference covers a wide variety of Django topics across experience levels.
DjangoCon US 2018 schedule looks impressive. Who's in?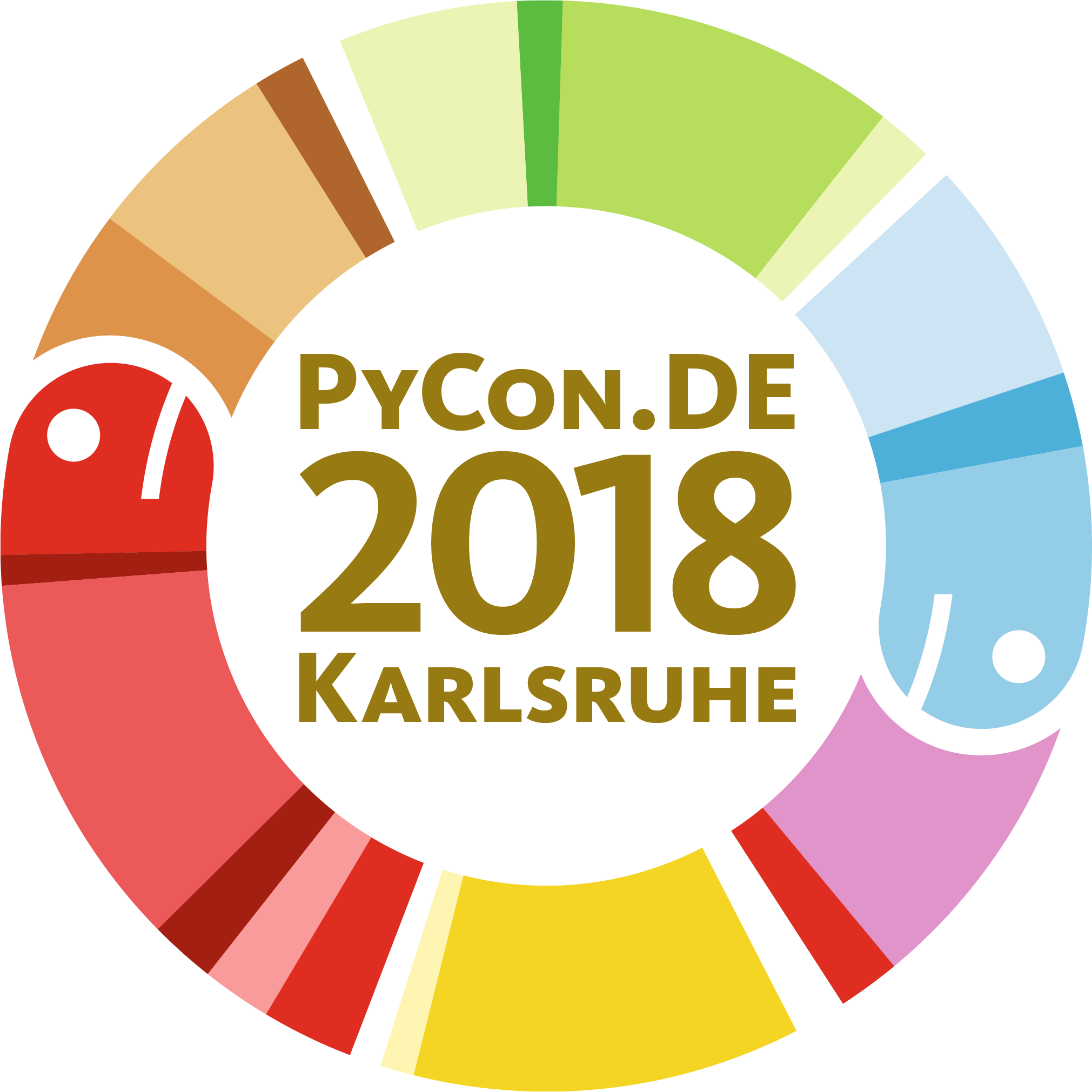 When? October 24-28
Where? Karlsruhe, Germany
Why? 60+ talks, tutorials, and hands-on sessions.
It's a real treat for European Pythonistas! This autumn loyal fans of Python programming language may meet in Karlsruhe, Germany to learn about new and upcoming Python libraries, tools, software, and data science. 
Also, the conference includes a PyData track which goal is to provide data science enthusiasts, a place to discuss the challenges of data management, processing, analytics, and visualization. 
This year more than 500 will attend PyCon.DE 2018. Will you be one of them? 
When? November 10 -11
Where? Dublin, Ireland
Why? 400+ attendees, 30+ speakers, 2 talk tracks with a mix of core python, data science, web frameworks
Ireland is no longer a country famous only for black Guinness, U2 or Saint Patrick's Day Celebration. It becomes more and more recognisable for its Python community.
What should you expect there apart from cloudy sky and windy weather? Brace yourself for the best talks from Irish and International speakers about Python and related technologies. Also, event organisers did their utmost to provide attendees with full workshop tracks to up-skill on some new technology. 
Thus, don't forget to take an umbrella and enjoy Dublin City!
When? November 14 -15
Where? Paris, France
Why? 40+ talks, 250+ attendees, 3 tracks, tutorials, workshops
What about talking about passion for Python in the city of love? What a charming idea! It will be possible thanks to PyParis conference which aims to provide a venue for users across all the various domains where Python is currently used. 
PyParis 2018 will be the first gathering of Python developers and business users in Paris, covering a large range of Python-related topics: application development, scientific computing, machine learning, AI, data analytics, education, cloud, DevOps and so on. 
Python enthusiasts will have a gorgeous place by the Seine - perfect to exchange ideas and share experiences about how best to apply the language and tools. 
What to expect? Tutorials for novices, advanced topical workshops for practitioners, and lots of opportunities to make new connections and network with peers. 
When? November 31 - December 1
Where? Guadalajara, Mexico
Why? 40+ talks, 250+ attendees, tutorials, workshops
If you are an engaged Pythonist, Mexico enthusiast and Spanish speaker, this event of your dreams.
PythonDay Mexico 2018 is an initiative created to bring together all the people who enjoy coding in Python and its ecosystem, regardless of the level of programming experience. It's an event organized by the community for the community, which mainly seeks to bring together the programmers of this language and people who wish to enter it.
During the event, speeches (45 minutes) and workshops (3-4 hours) will cover several aspects regarding the use of Python; from basic elements of this language, such as web development with Django, to the tools available in Python for data science. 
What's next? Main Python Events Upcoming In 2019
Fasten your seatbelts and let's have a short ride through the leading events awaiting for Python enthusiasts in 2019. We picked 3 conferences of high repute, gathering each year hundreds of Pythonist from all over the world.  Take a look at them and pick the one (or two or pick them all!) which is the most valuable for you. 
When? May 1-9
Where? Cleveland, Ohio, USA
The PyCon US at a glance: it's the largest annual gathering for the community using and developing the open-source Python programming language. During the event, you will see what's going on in the Python world, meet your fellow Pythonistas, share your knowledge and experience, make contacts, brainstorm projects, discuss prospects. What to expect? Scheduled talks (each day begins with a plenary keynote, followed by a full 5-track schedule), open spaces, lightning talks, expo hall, poster session, development sprints, job fair and many more.
When? June 24-26
Where? Basel, Switzerland
GeoPython at a glance: it's 4th edition of Python conference for the Geo-Community. The event will be focused mainly on: python in general, gis/mapping, geography / geophysics / geodesy / geomatics, earth sciences / environmental sciences, geovisualization, smart cities, spatial data / geodata, geospatial web services, big data, data processing, (spatial) databases, computer vision, remote sensing, image processing, machine learning / deep learning, robotics
When? August, 2-6
Where? Sydney, Australia
PyCon AU at a glance: it' s a conference bringing together professional, student and enthusiast developers with love for developing with Python. It will be filled with presentations, tutorials and panel sessions by experts and core developers of Python, as well as the libraries and frameworks that they rely on. 
Which Python conference do you choose?
As you can see, there are numerous Python conferences to participate in. While it is impossible to attend all of them, it's worth to focus on a few and get the very most of them. Which ones? It depends on your goals and your position within the organisation. Hence we made an in-depth list of Python conferences that we recommend. Analyse it and choose wisely.
Sources:
https://www.python.org
http://www.pycon.org